WordPress SEO: Optimization Tips, Best Practices, and SEO Plugins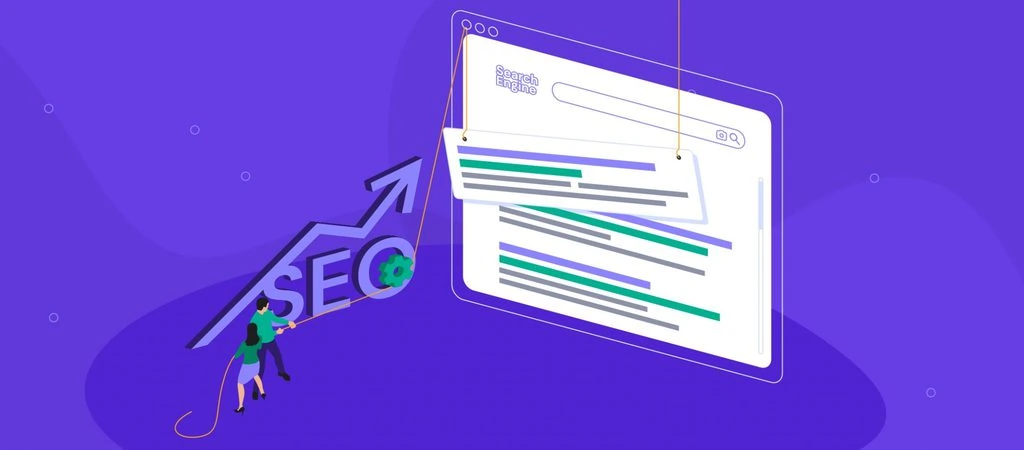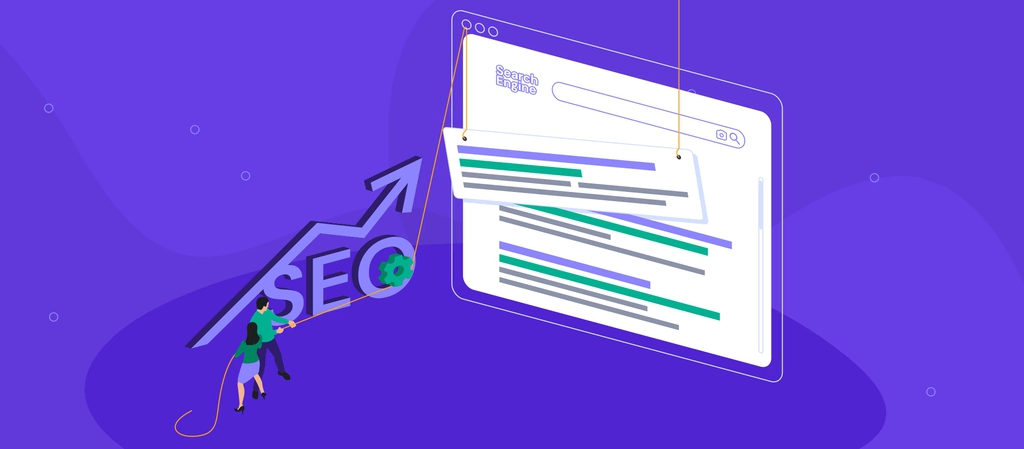 WordPress SEO helps improve a website's rankings on search engines and drive higher organic traffic. This comprehensive WordPress SEO guide will help you utilize multiple tools and features to optimize your site.
WordPress website optimization involves multiple steps and methods. This article will explain the essentials, from setting up an SEO-friendly website to improving loading speeds and optimizing content.
In addition, we will go over the best practices and plugins for WordPress SEO. If you are unsure about implementing these strategies on your own, we will also discuss how to hire an SEO professional.
Download Ultimate WordPress Cheat Sheet
Let's start by understanding what SEO is and covering the benefits of implementing the following strategies.
WordPress SEO Video Tutorial
Watch our video tutorial for an alternative way to learn top WordPress SEO tips. This video also demonstrates how to make changes to your SEO plugin and optimize your keywords.
What Is SEO and Why Is It Important?
Search engine optimization (SEO) is the practice of optimizing webpages to rank higher on search engine results pages (SERPs). SEO efforts can help drive higher organic traffic. In fact, the top three pages for a search query get more than 50% of the total click-throughs.
In addition, SEO helps improve a website's visibility and credibility, increasing conversion rates.
Search engines employ crawler bots to find fresh and updated content. They rank it on SERPs based on multiple factors.
Expert Tip
Why is SEO important?
1. It is low cost compared to paid traffic sources. You can treat this as an investment, and it delivers a great return.
2. It provides actionable data for a long-term strategy.
3. Organic search is one of the biggest channels of traffic.
How to Set Up an SEO-Friendly WordPress Website
Including SEO efforts during a WordPress website setup will help optimize it right away. The following ten steps will help you create a search engine-friendly WordPress site.
Step 1. Set Up an SSL Certificate
Secure Sockets Layer (SSL) is a security technology that encrypts the connection between a site and a browser. Having an SSL-certified domain will help secure your WordPress website, improving its ranking on search engines.
SSL encryption prevents unauthorized parties from accessing sensitive information on a website. When a domain is SSL-certified, its URL starts with https:// instead of http://. In addition, the browser displays a padlock icon next to the address.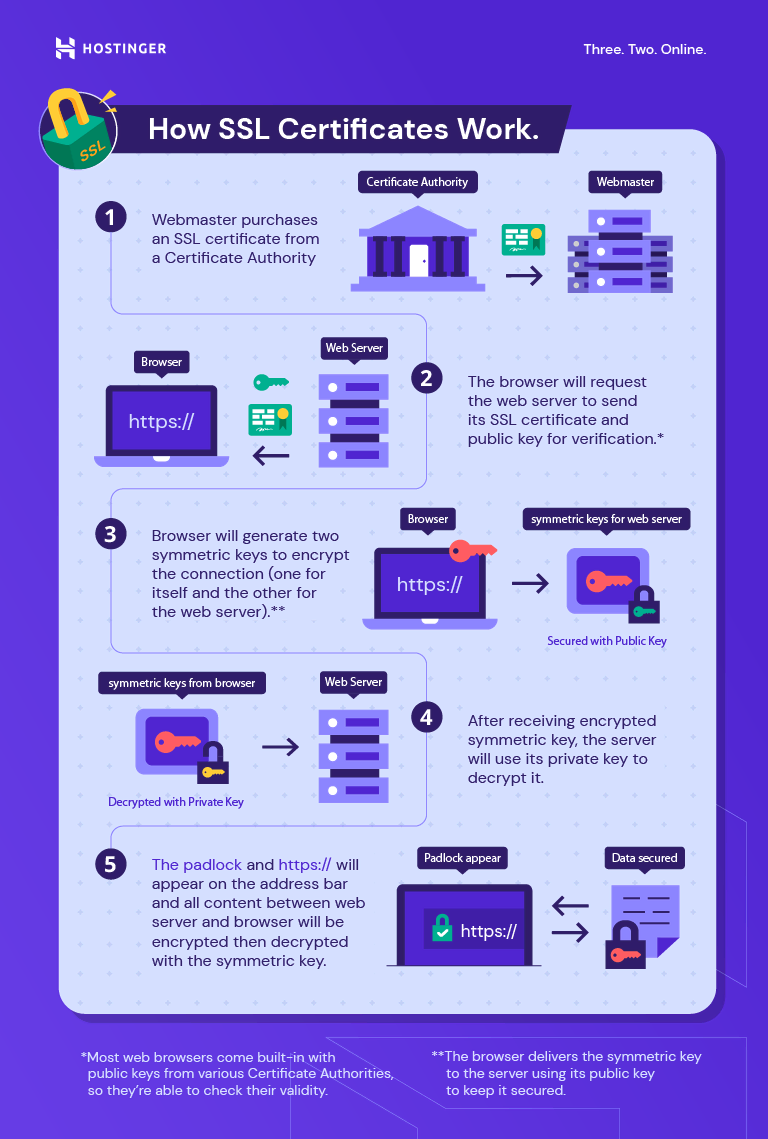 Another benefit of having an SSL certificate is that search engines take HTTPS into account when determining a website's page experience.
Some web browsers deem sites without SSL certificates not secure, advising visitors against entering them. This makes having an SSL certificate essential to avoid driving away potential traffic and hurting your website's conversion rate.
Step 2. Choose an SEO-Friendly Theme
The right theme can help improve your WordPress website's SEO by optimizing its user experience and performance. With over 9,000 WordPress themes available, consider the following elements before installing one:
Mobile responsiveness. Choose a theme that adjusts to desktop, tablet, and mobile screens. Mobile responsiveness is a ranking factor as it highly affects user experience.
Speed. Use a theme that includes only essential features – avoid installing one with many large images and animations. A fast WordPress theme will speed up your loading times, increasing your website's performance.
WordPress-compliant. Choose a theme that follows the latest WordPress coding standards to maintain code readability and prevent errors.
Regular updates. Install a theme with active developers for regular performance and security updates.
Plugin compatibility. Avoid themes with built-in optimization tools that might clash with your WordPress SEO plugin.
Here are some of the best WordPress themes for SEO:
Divi. With regular updates, the theme always follows the latest SEO trends and guidelines.
SEO Crawler. A mobile-responsive and fast theme that is compatible with Yoast SEO. This theme also comes with Google fonts integration and unique header designs.
Genesis. This user-friendly theme is fast, clean, and responsive, which can increase rankings on SERPs.
Astra. This highly versatile theme follows the latest SEO standards and recommendations. It works well with multiple page builder plugins for easier customization.
GeneratePress. This highly mobile-friendly theme offers a feature to separate mobile headers to fit smaller screens better. GeneratePress also helps deliver a great user experience by disabling specific elements that don't work on smaller devices.
Test your theme before installing it to screen it for potential issues. Use an SEO or speed test tool, such as web.dev or SEO Site Checkup, to check your theme's SEO-friendliness.
Step 3. Decide Between www and Non-www
The next step in making your website SEO-friendly is to decide if you'll use the www subdomain. Google considers www and non-www domains separate URLs. Settling on one format will help increase ranking.
To specify your domain format, head to your WordPress Dashboard -> Settings -> General. Enter the preferred version in the WordPress Address (URL) and Site Address (URL) fields and click Save Changes.

Alternatively, redirect your non-www URLs to www ones, or the other way around. Remember to use the same URL format when sharing your site's address.
Step 4. Set Up a Permalink Structure
Each web page has its own permalink. A clean permalink structure will help users and search engine crawlers navigate your site, improving its SEO.
What's more, search engines often display URLs on SERPs. Visitors trust clean and readable permalinks more than ones with random letters and numbers.
WordPress uses the default ID number as the permalink for a page, such as https://example.com/?p=123.
Head to Dashboard -> Settings -> Permalinks to change the default permalink structure. Select the Custom Structure option and include the necessary tags.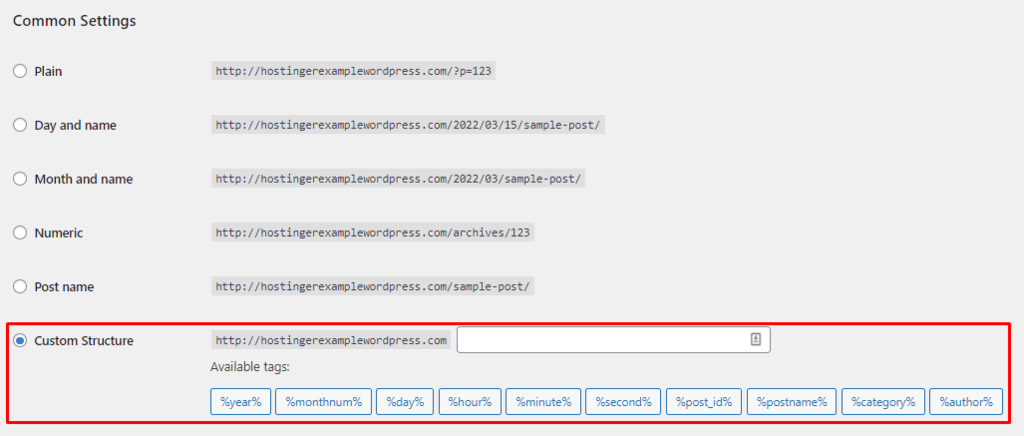 Choose the tags based on the type of your website. For example, news sites often include the date and title in a URL. Meanwhile, online stores' permalinks usually consist of the category and post name.
If your WordPress site is already online, remember to redirect your old URLs. Live WordPress sites risk losing previous referral links when changing the permalink structure.
Expert Tip
When working on a new website or optimizing an existing one, start with internal links and overall site structure:
1. I usually use Google Sheets to write down all the categories and pages the website might have and plan ahead. This way, I know what internal link structure to choose. If I am working on a website with three main categories, I'll most likely include their names in permalinks to create physical silos.
2. Avoid random strings and numbers in your URLs. I don't recommend having dates unless your content is highly time-sensitive. Having the post name just after your domain is usually the perfect solution.

Step 5. Utilize Google Tools
There are various WordPress SEO tools and plugins available. Utilize Google Analytics and Google Search Console to help your website perform better on SERPs. These tools will provide you with real-time performance and audience data which is essential for SEO.
Google Analytics
Google Analytics offers real-time data on website performance and audience, including acquisition, engagement, and retention rates. It improves WordPress SEO by:
Providing audience insights. Learn your audience's interests and demographics to help create new and audit old content.
Improving marketing strategies. Determine the performance of your strategies to achieve optimal conversion rates.
Analyzing the most active time. Identify the website's busiest time to publish posts accordingly.
Highlighting the most popular content. Find out which content attracts the most visitors.
The free version of Google Analytics has enough information for most websites. That said, enterprises with a lot of traffic can benefit from Analytics 360, the premium version. It provides advanced analysis, support, and data freshness, starting at $150,000/year.
Google Search Console
Google Search Console monitors a website's performance on search engines. This free tool shares insights on a page's search engine visibility, average SERP position, and core web vitals score.
Here are some of the main ways having a Google Search Console account can help your WordPress SEO efforts:
Easier keyword research. Learn which keywords bring the most traffic.
Improve link building. Find out the websites that link to your pages to ensure they are trustworthy.
Submit XML sitemaps. Use Google Search Console to submit your website's XML sitemap to Google.
Get SEO suggestions. Highlight areas to focus on when optimizing your website performance.
Video Tutorial
Learn how to add your WordPress website to Google Search Console with our video tutorial.
Step 6. Create WordPress Categories and Tags
Categories and tags are WordPress taxonomies essential to help users navigate websites. Categories have a hierarchical nature – posts are sorted into parent categories and subcategories. In comparison, WordPress tags are keywords that explain the content of a post.
Any website that consistently features different types of content should utilize WordPress categories. For example, Simply Tabitha's blog section includes a category selection that makes it easier for visitors to navigate between pages.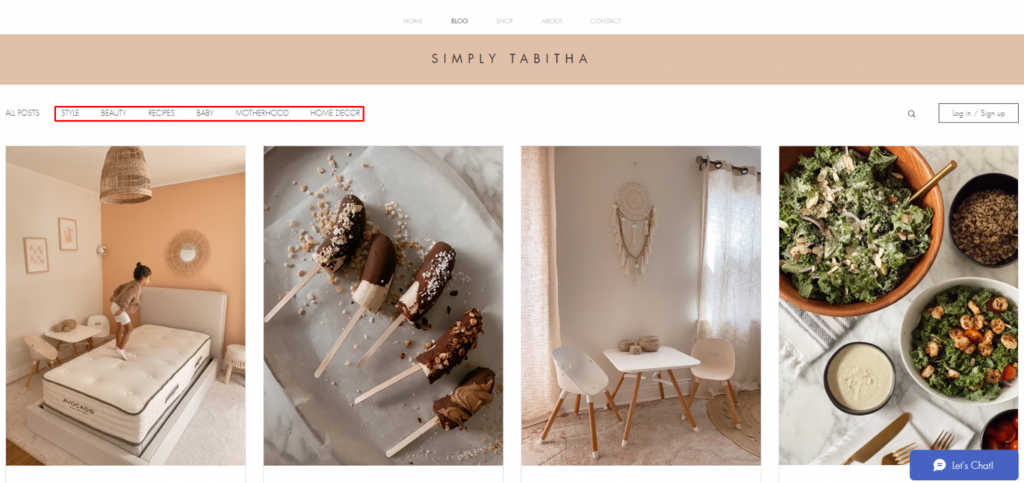 To edit and create categories, open your WordPress dashboard and head to Posts -> Categories. A list of all current categories will be featured on the right.
To add a new category, fill in the Name, Slug, and Description fields. If it's a subcategory, assign a parent category for a better website structure. Save the changes by selecting Add New Category.
Customizing tags is similar – head to Posts -> Tags. Click Add New Tag when finished.
Alternatively, use the WordPress editor to add new categories and tags. However, this way, you won't be able to insert descriptions.
Remember that each category and tag has its own slug and page – make sure to optimize their URL and design.
Step 7. Enable Breadcrumbs
Enabling breadcrumbs is another method to improve a website's user experience and navigation. Breadcrumbs are links that show visitors their location on a website. They are useful on content-heavy websites with many posts and pages.
eBay features a great example of how breadcrumbs help visitors navigate a site. Users can click on previous categories within the breadcrumbs to find related items when looking for a product.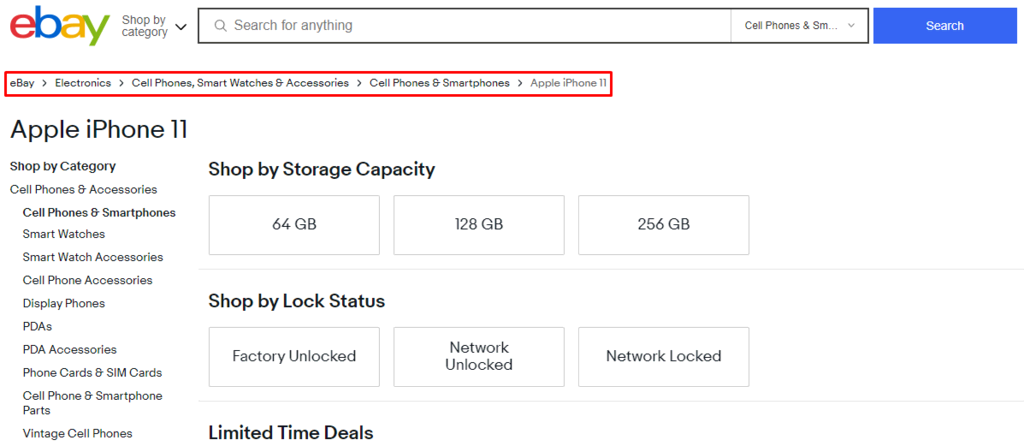 Breadcrumb trailing is an excellent internal linking tactic. It helps search engines understand the relationship between pages and encourages visitors to explore more pages on a website, reducing bounce rates.
Google also displays breadcrumbs on SERPs instead of showing the page's URL. Therefore, breadcrumbs help attract more visitors.

We recommend installing the Yoast SEO plugin to enable breadcrumbs on your WordPress website. Once it's set up, head to SEO -> Search Appearance -> Breadcrumbs to configure the settings.
Here are the different types of breadcrumbs to consider:
Hierarchy-based. The most common type, hierarchy-based breadcrumbs, show visitors where they are within the site structure. They feature the sequence of individual pages from the homepage.
Attribute-based. Such breadcrumbs are popular on eCommerce websites. They show product categories, like size and color.
History-based. This breadcrumb type is an alternative to your browsing history, showing the previous pages you have visited on the site.
Step 8. Submit Your Sitemap to Search Engines
Even though search engines index websites automatically, submitting your sitemap will help them include accurate and updated information on SERPs. A WordPress sitemap is a list of all public URLs on a website.
There are two types of WordPress sitemaps – XML and HTML. XML sitemaps are submitted to search engines. They help crawlers find content and information easier.
An XML sitemap also shows each page's importance and its relationship to the other web pages, showcasing the site's structure. XML sitemaps can also improve SERP rankings by notifying search engines that a website does not have duplicate content.
Make sure to submit your website to Google and Bing. There is no need to submit your sitemap to other search engines like Yahoo and DuckDuckGo, as they use Bing's indexing data.
Step 9. Enable Manual Approval for Comments
Spam comments often include links to malicious sites that can hurt your rankings. Enabling manual comment approval will help secure your WordPress website and protect its reputation.
Vet each comment to avoid unwanted messages on your site. WordPress makes it easy to do so with its Discussion Settings.
To enable manual comment approval, head to Dashboard -> Settings -> Discussions from the WordPress dashboard. Check the Comment must be manually approved box and scroll down to Save Changes.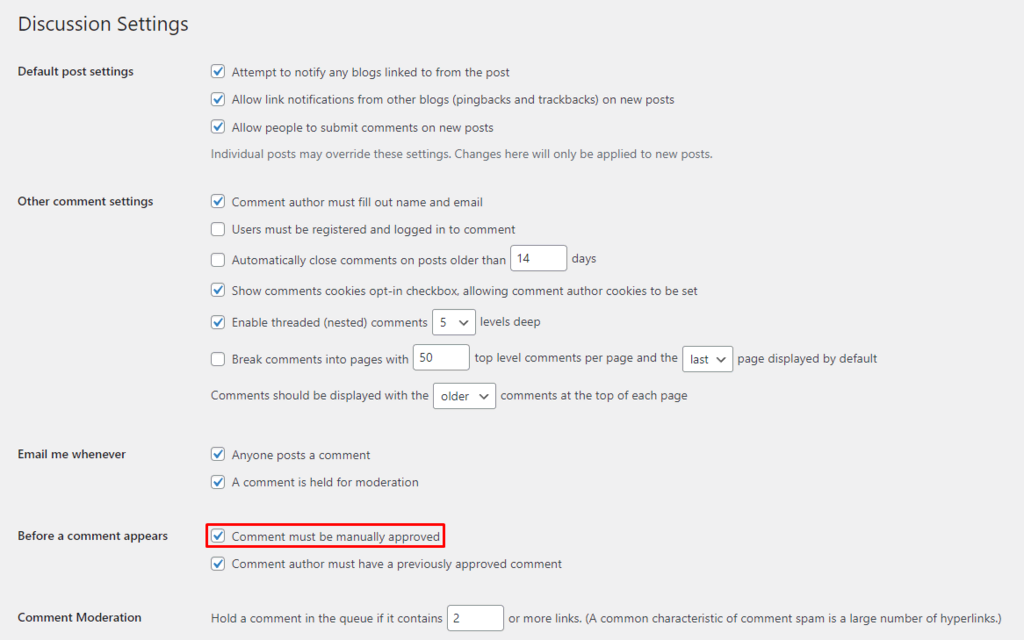 Here are the main elements to look at when screening comments:
Links. Avoid comments that include links to other websites, even non-spam messages.
Username. A username becomes an anchor text for the URL of the user's site. Do not approve comments with random letters and numbers for the username.
Message content. Check the content of every comment and only approve the ones that are clear and add value to the page or post.
In addition, install the Akismet plugin to help filter comments that are harmful to site security.
Step 10. Enable "Last Updated" Date
Lastly, enabling the Last Updated date on WordPress posts can generate more clicks. Even though the publishing date of a blog post does not affect a website's search engine rank, it is still visible on search results.
Google search results feature the date under the post's meta title. It is one of the deciding factors of whether a visitor chooses to click on a page. Users tend to look for the latest content with the most recent information.

Some WordPress themes, such as GeneratePress, use filters to show the last updated date. If your theme does not have the feature, enable it by using a WordPress plugin. We recommend WP Last Modified Info.
Once you've installed it, activate the last updated date settings by heading to Settings -> WP Last Modified Info -> Post Options. Then, toggle the button next to Enable for Posts/Pages on Frontend to turn on the last updated date feature. Change the rest of the settings accordingly and click Save Settings.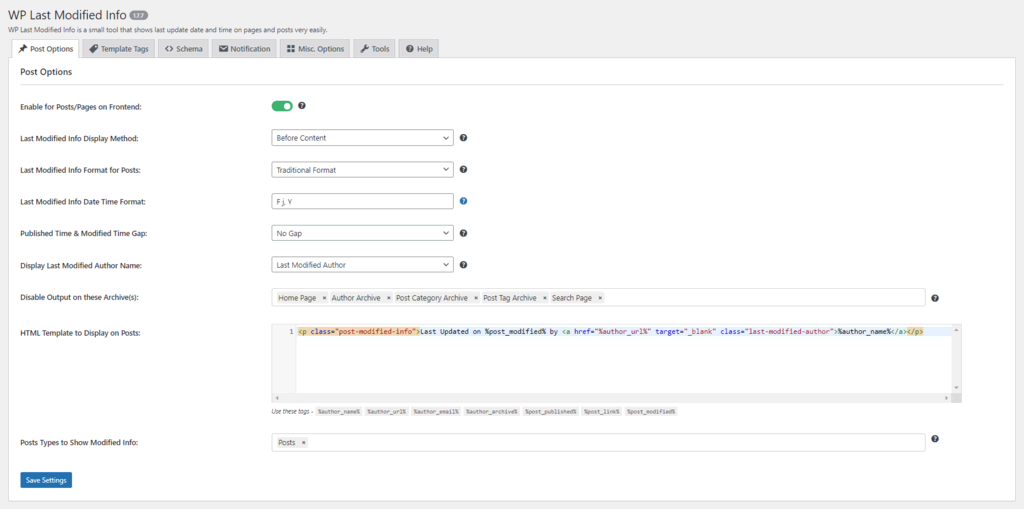 Next, head to your posts and pages and check if your WordPress site shows the last updated date. To change the date using the block editor, click on the Settings icon and scroll down to Discussion. Adjust the date and settings on the Last Updated and Modified Info sections.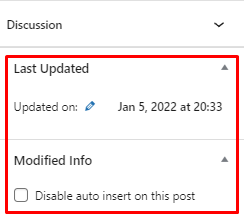 How to Improve Site Speed for Better WordPress SEO
Site speed is another essential element of WordPress SEO. Visitors are more likely to leave a page if it takes longer than two seconds to load, increasing its bounce rate.
In addition, speed is also a ranking factor in Google as a core web vitals metric. Google evaluates your page's performance based on the following metrics:
Search engines will penalize sites that score poorly.

Use Google Search Console to check your core web vitals and learn which areas to improve. Google PageSpeed Insights is another excellent tool for comprehensive speed tests, both for desktop and mobile.
Here are some of the best SEO tips to help speed up your WordPress website:
Expert Tip

Even though core web vitals are essential and can improve your rankings, having the perfect score for speed will not help if you don't have a solid overall strategy and don't optimize your content.

How to Optimize Content to Improve WordPress SEO
Check out the following WordPress SEO tips to optimize your content and improve its rankings on search engines.
1. Conduct Proper Keyword Research
In most cases, users find content online by making queries on search engines. The right keywords will help visitors and search engines find your posts and pages easier. Proper keyword research is the first step to finding the right terms for your content.
There are two main types of keywords:
Short-tail keywords. With up to three words, such keywords garner high search volumes and significant organic traffic potential.
Long-tail keywords. Keywords longer than three words often bring in less organic traffic. However, content with long-tail keywords has less competition and a higher chance of ranking on search results.
Using long-tail keywords for new websites helps them rank faster. Meanwhile, short-tail keywords are more effective once a website has gained more visitors.
The first step of conducting proper keyword research is to evaluate the search intent – what users want to achieve with their query. Understanding the search intent helps determine the best type of content for a keyword.
The most common categories of search intent include:
Navigational. Users are looking for a specific site by entering the name of a person, business, or brand as a search engine query.
Informational. Users want to gain knowledge or find a solution by asking questions.
Commercial. Users are researching a specific product or service that they intend to purchase.
Transactional. Users already know what to buy and are looking for the best place to make the purchase.
Once you have established the search intent, the next step is to find the right keyword. Use a keyword research tool, like Ubersuggest and Ahrefs, to find:
Search volumes. The number of searches with the relevant keyword.
Trends. The trend over time, interest by region, and related queries.
Difficulty. The measure of how hard it is to rank with a particular keyword.
Expert Tip
Keyword research should be the basis of any project or online marketing campaign.
2. Write SEO-Friendly Content Pieces
High-quality SEO-friendly content can improve a website's authority and increase its rankings on SERPs. When creating SEO-friendly blog posts or content pieces, make sure they are:
In-depth and well-researched. Every content piece should answer a specific search intent and cover all essential points accurately.
Original. Write content that offers a unique value to visitors.
Readable. Use simple and easy-to-understand language. Implement short paragraphs for better content scannability.
Well structured. Use headings to separate your content into sections.
Optimized length-wise. The length of a post depends on the content. However, an SEO-friendly blog post is at least 300 words long.
Published regularly. Provide new and updated content regularly. Visitors are more likely to return to websites that consistently offer new information.
If you need help writing SEO-friendly content, use a WordPress plugin like SEMRush SEO Writing Assistant. It will evaluate your text based on its readability, keyword-friendliness, originality, and tone.
To improve your content quality, use other tools like Grammarly and Hemingway Editor. They will help you with editing and proofreading.
Expert Tip
A piece's word count depends on the keyword you are targeting. The best way to determine it is to search the keyword and calculate the average word count of the top five ranking pages.
3. Include the Focus Keyword Throughout the Content
Including the focus keyword throughout your content will tell search engines its relevance to the targeted query. However, there are some strategies to optimize your keyword placements.
First, note that Google penalizes websites that engage in keyword stuffing – inserting a focus keyword too many times. Remember to write for readers, not search engines. The focus keyword should appear naturally throughout your content.
A method to prevent keyword stuffing involves using synonyms and related terms. Doing so also helps search engines understand the content better.
Include your focus keyword in the following areas:
Title tag. Include the main keyword within the first 60 characters.
Header tags. Add the focus and secondary keywords to headings to keep the content focused on the main topic.
Introduction. Include the main keyword within the first two sentences of your piece. This will explain what the content is about right away to users and search engines.
URL. Help search engines find your content faster as they crawl URLs first.
Meta description. Use main keywords in the short snippet that describes your content to increase your chances of ranking high on search engines.
Avoid keyword cannibalization – it occurs when multiple pages on a site compete for the same keyword. Cannibalized pages tend to perform worse on SERPs.
We recommend Yoast SEO – use it to analyze whether you have the appropriate amount of keywords in all content pieces. Insert the Focus keyphrase under the SEO section of your block editor. The Yoast SEO plugin will display a green smiling emoji if there are enough keywords.

4. Use an SEO Plugin
SEO plugins make it easy to optimize WordPress sites. They provide the necessary tools to optimize different aspects of a website, including content, speed, and user experience.
Here are some elements to consider before choosing an SEO plugin for your WordPress website:
Cost. Check the plugin's pricing plans to see if they suit your budget.
Notable features. Look into each function to learn how it can help your site's SEO.
User-friendliness. Check the plugin's interface to determine the difficulty of using it. Find out whether it requires technical knowledge.
Avoid installing multiple WordPress SEO plugins on a single website, as this will only slow it down. We'll discuss three of the best WordPress plugins for website optimization in a later section.
Expert Tip
SEO plugins give recommendations on what exactly is necessary to optimize the content for specific keywords.
If you are just starting with SEO, these suggestions are excellent. However, never follow the recommendations blindly.

5. Use the Correct Heading Tags
Heading tags create a clear and accessible structure for your content. With headings, screen readers can achieve better in-page navigation for users with visual impairment. Search engines also use heading tags to understand the content better.
Heading tags start from H1 to H6. The best practice is to use one H1 tag per piece only. The H1 tag often signifies the title – it should include the focus keyword as the term you want to rank for on search results.
The rest of the article can use the H2 and H3 tags to separate sections. Even though H4 to H6 heading tags can be useful, they usually contribute to a poor reading experience. We recommend using regular bold text instead.
Add headings by editing a page or post with the Block editor. Select the Heading block and choose the appropriate tag.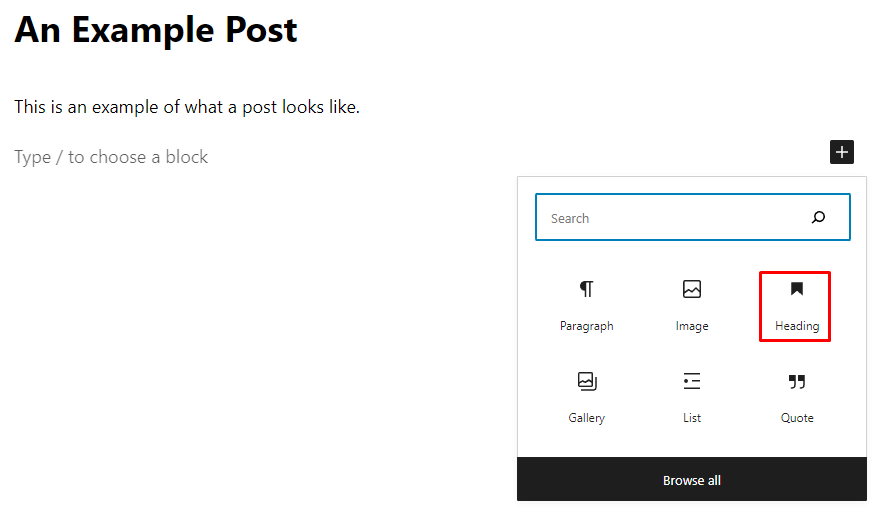 Some of the best practices to consider when adding headings include:
Follow the numerical order. Use the tags in descending numerical order. H2 tags should come after H1 and H3 tags after H2.
Make it concise. Write headings and titles that are between 50 and 70 characters long.
Use a question sentence. This format will increase your chances of getting a position in search engine Featured snippet and People also ask sections.
Include keywords. Headings allow including secondary keywords to rank. However, some should also contain the main keyword.
Search results feature heading tags under the meta description. The right phrasing may encourage users to visit your page.

6. Link Between Your Content Pieces
Internal links help users and search engines navigate a website to find relevant content and information. Google uses them to rank content on search results. Here are the main benefits of linking your content pieces with one another:
Interconnectivity. Internal links show the relationships between pages to search engines, facilitating faster crawling.
Improves authority. Internal linking establishes link equity for the content that represents your brand. Search engines will consider these pages to have a higher value.
Efficient navigation. Linking to related content will encourage visitors to spend more time on your website.
Keeps focus. A link to another page with more details will help prevent over-explaining a concept.
The two types of internal links are:
Navigational. They help users navigate different pages with links on a menu.
Contextual. Such links point to other content, typically blog posts, that explain the topic further.
Both navigational and contextual internal linking contribute to a site's SEO. They help build an information hierarchy and establish authority. Contextual links also signal to Google that your website has high-value content.
The word or phrase you add the hyperlink to is anchor text. It should be related to what you are linking. For example, a link to a page on "how to create a website" can feature the same phrase as the anchor text. Avoid relying on vague wording like "click here" or "this article."
To add a hyperlink to a phrase on WordPress, simply highlight the anchor text and click on the link icon or press Ctrl + K. Then, enter the link address or locate it by searching for it and click Apply.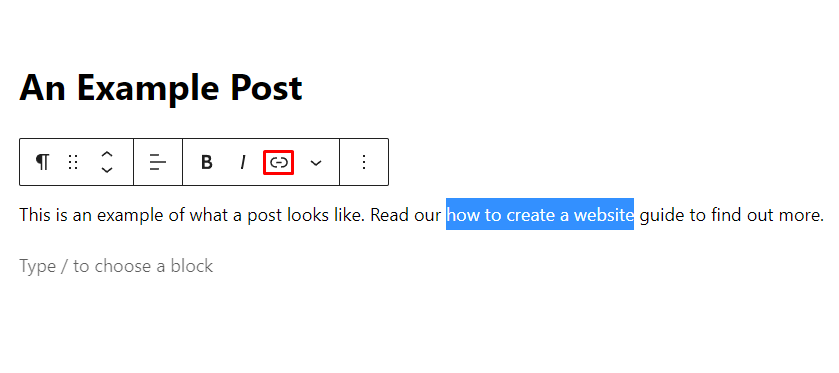 Note that internal links have to be contextually relevant to the content. In addition, avoid too many internal links in one sentence or paragraph as this may harm readability.
7. Add Trustworthy External Links
Besides linking to your own content, implement external linking to add value to readers and search engines. External links pass authority by giving pages link juice – the value passed from one page to another. Remember to be mindful of the posts and pages you link.
Some of the benefits of adding trustworthy external links include:
More credibility. Valuable links enhance your website's credibility and authority.
Improved rankings. Search engines use external links to understand a site better and estimate its value.
Value to readers. External links help user experience by allowing readers to explore a topic further.
A website's domain authority (DA) can help determine if it is giving link juice to trustworthy websites. SEO experts use DA to estimate a website's trustworthiness within a niche.
Use Moz's Free Domain SEO Analysis tool to check a site's DA score. If the score is between 70 to 100, it is a great source to link externally. This tool also shows the number of backlinks a website has and how many keywords it ranks for.
Here are some WordPress SEO tips on adding external links:
Avoid paywalled links. Readers should be able to immediately access the content you are featuring without subscribing or signing up.
Open the links in a new tab. Readers will be able to navigate between your site and the external link.
Reach out to the website owner. Inform them that you have included links to their content and ask whether they'd like to link to yours.
Check the published or last modified date. Avoid referring to content older than two years, as the information will be likely outdated.
Prioritize internal links. Check your content first, and only link to information visitors cannot find on your website.
If you are using an external link to a website that you do not want to be associated with, include the nofollow rel attribute. It will stop search engines from crawling the link, saving your link juice. You can add nofollow external links by using an SEO plugin or manually.
Use the Code Editor or the HTML block to add the attribute manually. Do so by including rel="nofollow" after the link. Here's an example of how to do it:
<a href="https://example.com rel="nofollow">Anchor text here</a>
If you are adding affiliate links or user-generated content, use the rel sponsored and rel ugc attributes, respectively.
8. Leverage Video Content
Video content helps keep an audience engaged. In fact, 87% of marketers have stated that video content has helped them increase traffic. Video is a great addition and alternative to written content, especially for those who prefer a visual explanation.
Not Another Cooking Show features a video on the homepage to promote the channel – this practice is more engaging than displaying an image.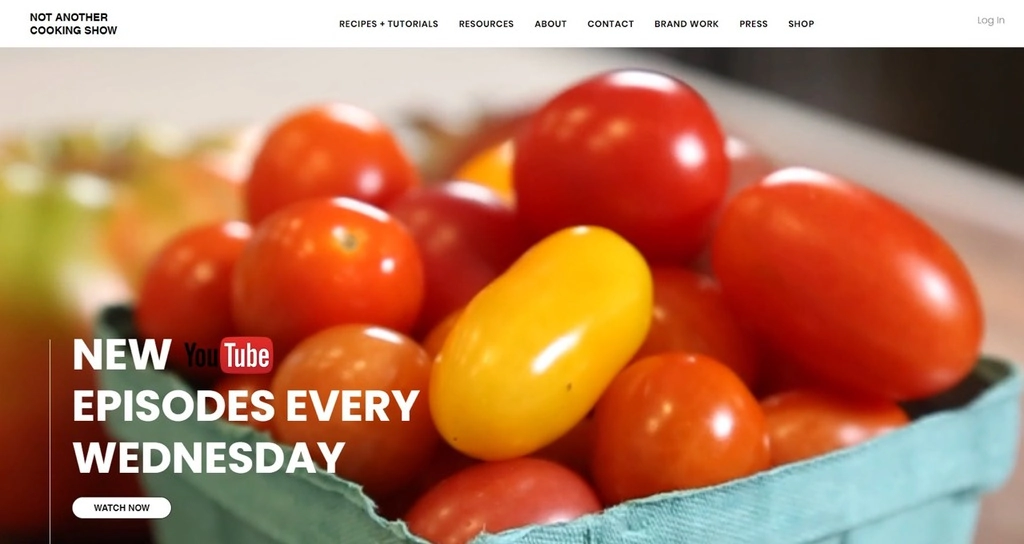 However, videos are often larger than any other type of content. Uploading multiple videos on your WordPress website can fill up your storage and cause slow loading times.
Avoid this issue by uploading your video to another platform and embedding it on your WordPress website. YouTube is the most popular video-sharing platform and can help expand your reach. In addition, it comes with built-in features, such as timestamps, to help optimize videos for Google.
If you've decided to upload your videos to YouTube, head to the WordPress block editor and click on the plus sign to add a new block. Select YouTube under EMBEDS and enter the video's URL.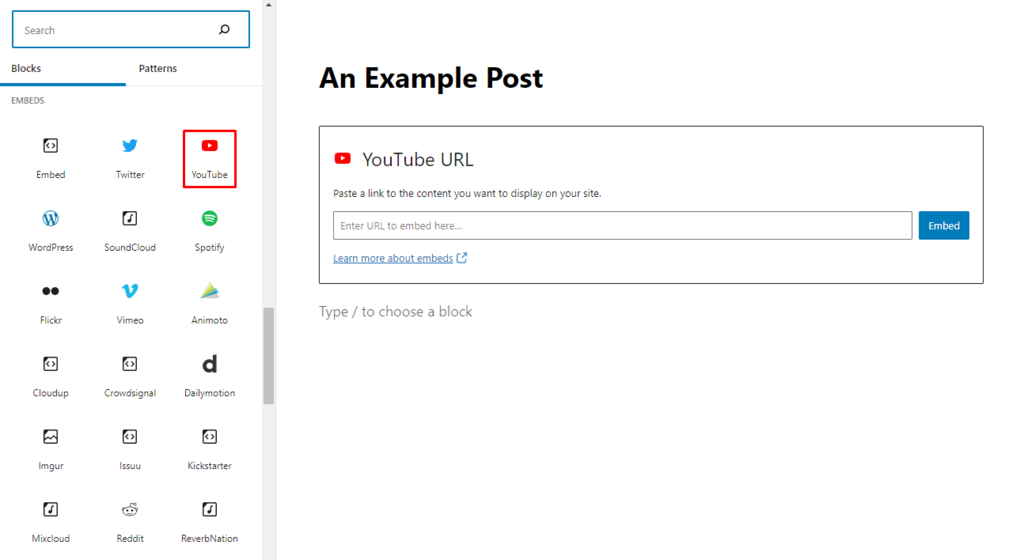 If the platform you are using doesn't have its own block, use the Embed block.
9. Set Up Canonical Tags for Duplicate Content
When multiple URLs lead to the same content, search engines choose one as the canonical version and crawl the duplicates less often. Setting up canonical tags is essential to ensure that search engines crawl the right pages.
Indicate a preference by including the rel="canonical" attribute after a link. Search engines will crawl that page more often than its duplicates.
Duplicate content occurs when multiple pages point to the same page, including its www and non-www versions. Content is also duplicated when there are separate URLs for mobile and desktop browsers.
In addition, search engines can also consider different language versions of a single page as duplicates if the main content is in the same language. Check for duplicates if you have a translation feature on your website but do not translate all content.
WordPress SEO plugins usually have features to set canonical pages. You can identify duplicate content with online tools like Siteliner.
10. Noindex Low-Value Content
Low-value content consists of posts and pages that search engines and visitors do not consider valuable. Preventing search engines from indexing irrelevant content will help keep your authority.
Content is low-value when it does not provide a direct answer to a query. The following posts and pages are some common examples of low-value content:
Archive
Category page
Low-quality content
Marketing content
User-generated content
Adding a noindex meta tag helps prevent specific WordPress posts and pages from showing up on SERPs. A noindex tag leaves a page open for visitors, but its content will not affect your site's authority. Users also won't be able to find the page with a search query.
Remember to add noindex tags to low-value content only. Adding a noindex tag to canonical or duplicate pages may confuse WordPress and search engines.
Most WordPress SEO plugins include features to help noindex low-value content. Another method to prevent post or page indexing involves editing the site's robots.txt file, which requires more technical knowledge.
WordPress also has a built-in feature to hide your website from search engines with the site's visibility settings. Turn it on when your website is under maintenance to prevent hurting its branding.
Other WordPress SEO Best Practices
It takes effort to achieve and maintain high rankings on SERPs. Once you've optimized your content, check out these five WordPress SEO best practices to improve your site's performance further.
1. Use Custom URLs
Customizing your WordPress URL slug can help improve your rankings, especially with the right focus keywords. Custom URLs are easier to remember and strengthen a brand's online presence.
WordPress makes it easy to edit individual permalinks. To do it, head to the WordPress Block editor and click on the Settings icon. Write the custom URL in the URL Slug box under the permalink section.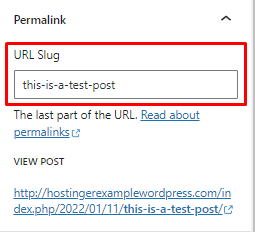 Here are some of the best SEO practices to remember when customizing URLs:
Keep the slug short and simple. Create a readable URL with a simple structure.
Avoid special characters. URLs with special characters may appear confusing. In addition, avoid featuring multiple numbers to keep the URL memorable.
Replace spaces with hyphens. Use hyphens, not underscores, when adding spaces between words.
Be aware of creating duplicates – URL slugs are case-sensitive. For example, Google considers https://example.com/url-slug and https://example.com/URL-slug as two separate URLs. Google also treats addresses with and without trailing slashes like https://example.com/url-slug/ and https://example.com/url-slug as different content.
2. Optimize WordPress Images
Images help capture an audience's attention and reinforce the ideas you want to convey. Optimizing them can improve your site's loading times and accessibility, increasing its rankings on SERPs. In this section, we'll discuss three ways to perform image optimization.
Compress Your Images
Images make content more visually appealing, but having too many of them on your website may affect its loading time. Image compression will help keep your site fast.
Compressing your images does not mean reducing their quality. Use a tool like Optimizilla to lower image sizes without sacrificing visual fidelity.
You'll have to choose between lossy and lossless compression depending on the type of images you feature on your site. Use lossy compression for .JPEG files without too many details. Lossless is more appropriate for .PNG images with a lot of text.
Resizing high-quality and large images on WordPress can still slow down your site as the process takes up a lot of resources – it is better to optimize them before uploading.
Use Alt Text for the Images
Alt text (alternative text) helps make your images more accessible. It describes what images look like to search engines to highlight their relevance to the content. Screen readers use it to help visually-impaired users understand pictures.
When the mouse cursor hovers over an image, the alt text will be shown. Alternatively, inspecting the visual on your browser will also produce it.
WordPress has built-in features to add alt text to images – users can assign it via the media library and the block editor.
We recommend adding alt text directly via the media library so it's available when you reuse the image. To do so, head to the Media Library and input the Alt Text under ATTACHMENT DETAILS.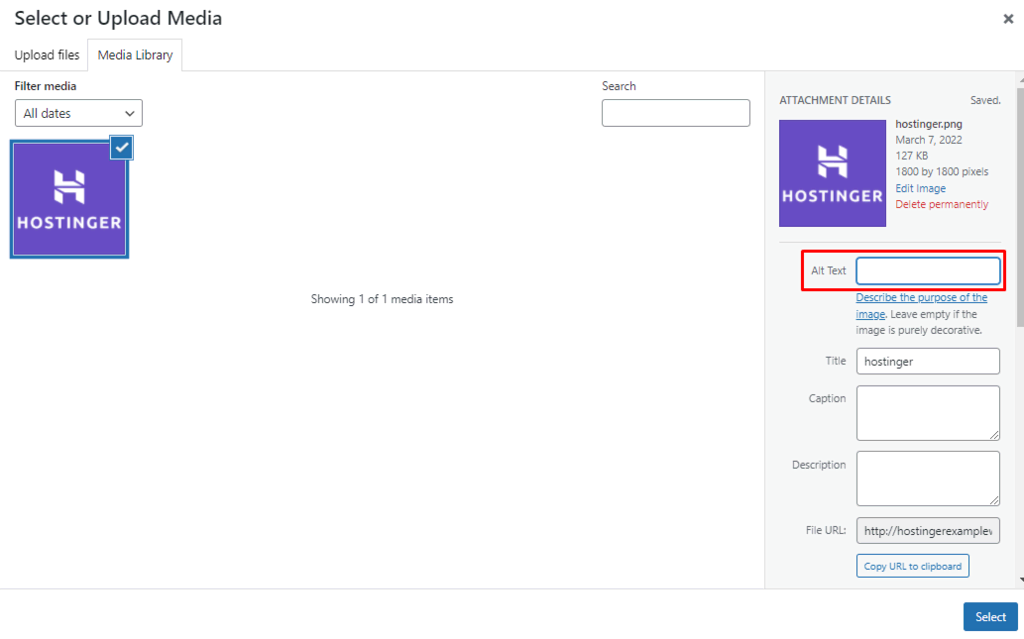 Here are some alt text SEO best practices:
Describe the image accurately. Strive for a description that could help the visually impaired understand the content.
Keep it concise. Ideal alt text is between 80 and 125 characters long.
Include keywords when necessary. Ensure that the keyword is related to the image and avoid keyword stuffing.
Maintain sentence structure. Write alt text as a sentence with proper grammar, spelling, and structure.
Use Readable File Names for Images
In addition to alt text, file names can also help search engines understand visual content – they are also more likely to recommend images with readable file names. Therefore, use readable file names instead of ID-based labels like IMG_0001.jpg.
Here are some elements to consider when making sure that your image names are readable:
Short and descriptive. Keep your image names under five words. The file URL should look orderly and readable.
Structure. Google recommends writing file names in lowercase and replacing spaces with hyphens. Avoid using numbers and special characters.
Include keywords. Use keywords in image names if they accurately describe the file.
3. Write Good Meta Titles and Meta Descriptions
Search engines feature a page's meta title and description on SERPs to give users an idea of the content. Making these elements attractive is essential to invite visitors and generate organic traffic.

Making the Most Out of Meta Titles
Meta title or title tag optimization is necessary to increase your chances of ranking for the desired keyword. An appealing meta title will compel people to click on your page.
We recommend simplifying the title tag, especially when the post title is too long. Search engines will use the page title if you do not write a separate meta title.
If there isn't enough relevance between the meta title and search query, the search engine will use your content to generate alternative title tags. Therefore, optimizing your title tag will give you more control over your pages' appearance on SERPs.
Here are some ways to make the most out of your meta titles:
Keep it short. Search engines will cut off a title tag when it is too long. Keep it under 60 characters.
Include the focus keyword. This will improve your rankings by letting search engines know which SERPs your post or page fits best.
Make it unique. Every post or page should have its own meta title. Even if it differs from the page title, the meta title should still be relevant to the content.
Add branding. To promote your brand on SERPs, include your branding in meta titles. Use a dash or a vertical bar to separate the post title from the brand name.
Optimizing Meta Descriptions
A meta description is an HTML element that drives organic traffic to your page by summarizing its content. Even though it is not a ranking factor, a meta description can highly impact a page's click-through rate. Meta descriptions are visible on SERPs and certain social media platforms.
Here are some ways to optimize meta descriptions:
Include the focus keyword. Search engines highlight keywords in meta descriptions when presenting them on SERPs. Including keywords does not affect ranking but can help drive more traffic.
Use the active voice and calls-to-action. Make your meta description sound direct by using the active voice and call-to-action phrases. In addition, include the benefits of reading your post or page to inspire users to take the suggested steps.
Keep it short. Aim for 50–160 characters, as search engines can cut meta descriptions that are too long.
Avoid quotation marks. Search engines may automatically cut a description off after any quotation marks. If you need to use them, opt for apostrophes instead.
Make it unique. Every post and page should have its own original meta description that's not copied from other websites.
Be relevant. Ensure that your meta descriptions are relevant to your content. Failure to do so may result in search engines generating their own snippets.
That being said, search engines often rewrite meta descriptions with excerpts they find within the post. In fact, Portent's research shows that Google ignores customized snippets 68% of the time for desktop and 71% for mobile SERPs.
There are numerous WordPress SEO plugins available with tools to optimize meta titles and descriptions. For example, Yoast SEO will let you know if the meta title and description are good for search engines.
4. Use Structured Data
Structured data makes it easier for search engines like Google to understand a page or post. In addition, it can change the way a snippet looks on SERPs.
Structured data is a standardized format for providing information and classifying the page content. It describes the content using schema markups, which change your content into code that search engines can easily process.
Search engines read this code and display rich results that often appear above the regular search results. Naturally, appearing on rich results can increase your click-through rates and boost exposure.
An example of rich results is the Recipes snippets. A recipe page with valid structured data can appear as a different search result with more information, such as the rating, required time, and ingredients.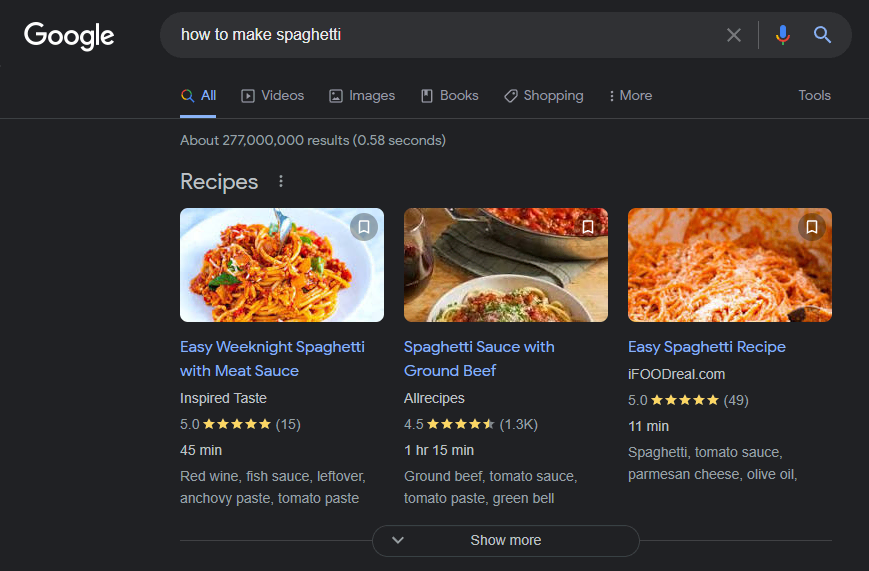 Other common rich result types include Books, Reviews, Movies, Top Stories, and Products.
Follow the structured data guidelines to increase the chances of your pages appearing as rich results on SERPs. However, note that Google does not always create a rich result section for a query, even with structured data.
There are two methods to add schema markups to WordPress – using an SEO plugin or manually with JSON-LD. The manual method requires coding knowledge to avoid damaging your WordPress website.
An SEO plugin will make it easier to improve your pages' appearance on SERPs. We recommend Yoast SEO. To add structured data, navigate to the Schema tab located in the meta box below the post or page editor. Then, select the appropriate Page type and Article type.
You can also optimize your company or brand's details for rich results through Yoast SEO -> Search Appearance from the WordPress dashboard. In the General tab, scroll down to the Knowledge Graph & Schema.org section and configure the fields to your liking:
Use Google's Schema Markup Testing Tool to see what rich results search engines can generate for your page and validate your schema markups.
Note that creating a blank page to hold structured data will not increase your chances of appearing as rich results. In addition, avoid using schema markups for information that isn't visible to users.
5. Leverage Your Social Media Presence
Our next WordPress SEO tip is to boost your social media signals. While they may not be a direct ranking factor, they can let search engines know that a website is trustworthy.
Even though Google has stated that social media does not directly impact SEO, it takes linkless positive brand mentions into account. Other search engines like Bing consider a brand's presence on external platforms to determine its website's credibility. Bing's ranking algorithm even considers engagement factors like shares, follows, and likes.
Here are some ways social media can improve your WordPress SEO:
Boost content performance. Share your website content on social media platforms to attract more visitors.
Increase brand recognition. Sharing on different platforms can expose your brand to diverse audiences.
More opportunities to get backlinks. Other websites are more likely to link to your website if it has enough recognition.
Consider the following social media strategies to get started:
Optimize your profile. Include useful details about your website. Feature some industry-relevant keywords to increase your social media profile page's chances of ranking.
Share content regularly. Use compelling captions and images to entice users to visit your posts or pages.
Install a WordPress social media plugin. It will make it easy for readers to share your posts on their social media platforms. In addition, some plugins display the share count of a page to prove its popularity.
Engage your followers. Encourage interaction with polls, surveys, question-and-answer sessions, or custom hashtags to generate buzz.
Depending on your website's niche, choose an appropriate platform to build your social media presence. The following social media platforms are particularly effective in boosting your site's SEO:
LinkedIn. The professional networking platform can help increase visibility on search results, especially when using relevant keywords.
Twitter. This platform can help your website rank better on SERPs with more shares.
Facebook. This social media platform makes it simple for users to share different types of content.
Medium. The blogging platform helps you reach a wide audience and increase exposure. Medium articles can also rank on SERPs.
Best Plugins for WordPress SEO
WordPress SEO involves many steps and methods and can be overwhelming. Installing a plugin will help optimize website performance, structure, and content easier and faster.
In this section, we'll go over three of the best WordPress SEO plugins to consider along with explanations of their pricing plans and notable features.
The All in One Search Engine Optimization (AIOSEO) plugin provides features to improve a website's structure. It also offers seamless integration with third-party tools, such as Google Search Console and Google AMP.
Some notable AIOSEO features include:
Page analysis. Provide an actionable list to help optimize on-page SEO indicators, such as keywords, meta descriptions, and titles.
Redirection manager. Avoid confusing search engines or losing valuable backlinks by redirecting broken links.
Link assistant. Display the number of internal and external links in your post or page. AIOSEO also gives recommendations for internal links.
Sitemaps. Notify all search engines of any updates by automatically generating XML sitemaps. In addition, AIOSEO has video and Google news sitemap generators.
Social media integration. Control your content and thumbnail displays on Facebook, Twitter, and other social media platforms.
The free plugin offers basic SEO functionality that should be enough for small websites. That said, there are four premium pricing plans with advanced features:
Basic for $49.50/year – offers premium SEO features for one site.
Plus for $99.50/year – offers additional local and image SEO modules for three sites.
Pro for $199.50/year – includes priority support.
Elite for $299.50/year – comes with client management features.
2. Yoast SEO
The Yoast SEO plugin will enhance your WordPress site's SEO with tools and suggestions. This beginner-friendly plugin focuses on on-page and technical SEO practices. Yoast SEO marks optimized posts and pages with a green circle to make it easier to understand.
The most notable features of Yoast SEO include:
Breadcrumbs. Improve website navigation and help search engines index your WordPress site.
Meta box. Check the Google preview to see how your post will appear on SERPs. The SEO analysis will evaluate the optimization of your post or page's title tag and meta description.
Noindex. Keep search engines from indexing low-value content.
Link structure. Utilize internal linking blocks to improve your chances of ranking.
Canonical tags. Prevent Google from indexing duplicate content using the canonical URL tag on all main pages.
The free Yoast SEO version is suitable for small websites and beginners. However, a premium Yoast SEO subscription comes with advanced features to optimize one site for $99/year.
The Rank Math SEO plugin has a user-friendly interface and a straightforward setup process which comes in three modes – easy, advanced, and custom.
The easy mode helps tweak basic Rank Math SEO settings. In comparison, the advanced mode helps change all website SEO elements. The custom mode is only available with the premium plans but allows users to import settings from other websites.
Here are some of Rank Math SEO's notable features:
Content AI. Improve your content quality for users and search engines by following the recommendations of Rank Math's artificial intelligence tool.
Google trends integration. Check search trends for keywords using a graph comparison tool.
Google tools integration. View Google Search Console and Google Analytics information from your WordPress dashboard.
Schema generator. Create custom schemas and import them from other websites to have your pages featured as rich results on Google.
Rank tracker. Learn how your website ranks against the competition by checking its performance with preset keywords.
As a free plugin, Rank Match comes with basic SEO features and tools. However, it also has premium pricing plans with advanced functionality:
Pro for $59/year – tracks up to 500 keywords and supports unlimited personal websites.
Business for $199/year – tracks up to 10,000 keywords and supports 100 client websites.
Agency for $499/year – tracks up to 50,000 keywords and supports 500 client websites.
WordPress SEO Checklist
Download our WordPress SEO checklist to keep track of all the steps and methods. It also contains recommendations on how often you should perform each task for optimal website performance and high rankings on SERPs.
How to Hire a WordPress SEO Professional
WordPress SEO is a long-term process that requires persistence. It can take a lot of time to take care of every task on your checklist. However, SEO is essential to drive higher traffic to your site and ensure that people can reach your content.
Instead of optimizing your site yourself, you can hire a professional. A WordPress SEO expert will help analyze your website and implement any necessary changes. They should be able to assist you with traffic, social media, and marketing effort optimization.
Here are a couple of reasons why you may want to hire an SEO professional:
More time for other tasks. Hiring someone will free up your time to focus on other responsibilities, such as content production and branding.
Get updates and new ideas. SEO and ranking factors are always changing. WordPress SEO professionals keep up to date with any developments and can bring new ideas.
The cost of hiring a WordPress SEO professional varies. Depending on the agreement, website owners pay experts hourly, monthly, or per project. The average rate of a WordPress SEO professional is between $100–250/hour, depending on the scope of work.
Before hiring a professional to work on your WordPress SEO, consider the following:
Their experience. Take a look at any SEO work the professional has done before. Check their portfolio and success stories.
Their skills. Make sure that the SEO professional knows how to optimize a WordPress website. In addition to understanding WordPress features, they should be familiar with useful WordPress plugins.
Testimonials. Check comments and reviews from their previous clients.
Duration. Decide on how long you want to hire the WordPress SEO professional for. Consider a short-term contract and extend it if you are happy with the results.
An SEO professional should be honest about the process and what they can achieve. Look out for experts who guarantee success quickly – this is unrealistic as quality SEO takes time to build. Before hiring them, ask the SEO expert to give you a cost rundown to avoid incurring additional charges.
We recommend looking on work marketplaces like Upwork or Fiverr to find an SEO specialist. These platforms provide detailed information about what each professional can do, their price per hour, and come with ratings from previous clients.
Alternatively, check out social media platforms, such as LinkedIn and Facebook. This way, you might be able to hire a professional with a more flexible rate. However, it will be harder to get proper testimonials from previous clients.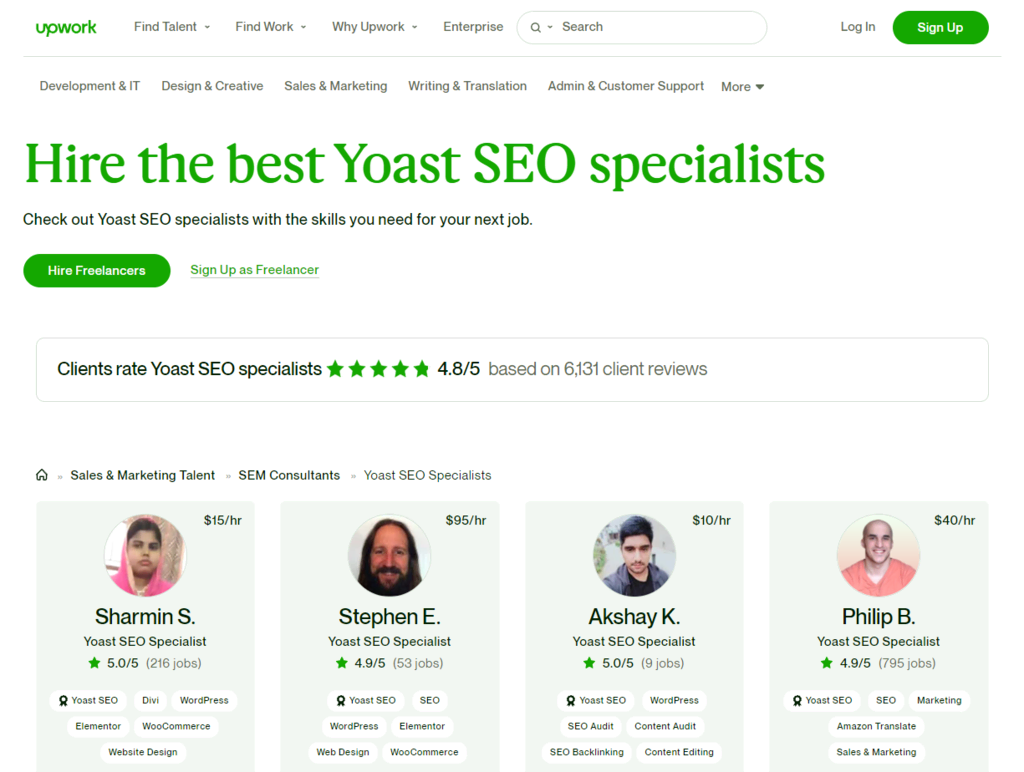 You can also purchase the services of a professional agency, like WordPress SEO Experts. With an experienced team, you will be able to accomplish a lot more SEO work.
Conclusion
Search engine optimization helps improve user experience and drive higher traffic. We have listed a number of steps and methods to improve your website for visitors and search engines.
In summary, here are the WordPress SEO highlights to remember:
Optimize website security and performance. Install an SSL certificate to protect your WordPress website from malicious third parties. Use an SEO-friendly WordPress theme to improve website performance and user experience.
Set up your permalink structure. Customize your site's URLs for better structure and readability. Avoid using special characters and numbers.
Set up canonical tags for duplicate content. Prevent confusion when more than one URL points to the same page by adding a canonical tag to the main page. Choose whether you will use a www or non-www domain.
Submit XML sitemaps to search engines. Provide the most updated and accurate information to search engines to help with crawling and indexing. Use webmaster tools like Google Search Console to submit your site's XML sitemap.
Utilize SEO plugins and tools. Many external tools can help optimize your website. Use a WordPress SEO plugin, such as AIOSEO, Yoast SEO, or RankMath. In addition, utilize search engine tools like Google Analytics and Google Search Console.
Conduct keyword research. Search for the right queries for your content to rank. We recommend that newer websites use long-term keywords for higher chances of ranking.
Write the meta title and description. Drive higher traffic by writing a unique meta title and description for every page and blog post. Note that they must be relevant to the content.
Optimize content and media files. Include target keywords, use proper headings, write alt text, and compress your images. Make sure that your content is accessible to screen readers.
Add internal and external links. Help users and search engines understand your content better – link your content to other local pages and external trustworthy websites.
Use the WordPress SEO checklist. Download our checklist to optimize every part of your website.
Remember that WordPress SEO takes time to show progress and requires continuous effort. Consider hiring an SEO professional so you can focus on the other elements of your website. Good luck!
Was this tutorial helpful?